Hello, world!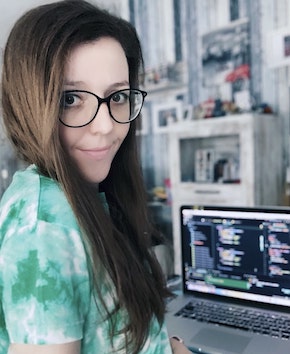 My name is Alina and I'm a Frontend Developer from Germany.
I have almost a decade of experience in building responsive websites and web applications.
Right now, I'm working on my Bachelors Degree in Computer Science with a special focus on Cybersecurity.
My favorite skills are HTML, CSS, JavaScript, Angular, React and Python.
This page is an information platform for beginners and tech interested people.
I'd like to share my experience and start into the tech industry and I try to help others with their step into this industry.
You can find some resources that help me to improve my coding skills everyday like recommendations on online courses, books, tools, ...
My Favorite Tech/Office Gadgets - Part I
Today I like to share my favorite tech and (home) office gadgets that I use (almost everyday)!
---
Laptop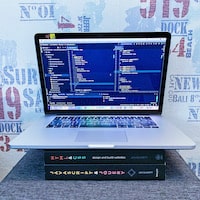 My MacBook Pro 15" in silver from 2015 has 250MB of hard disk and 16GB of RAM. I bought this one because it has USB, HDMI, SDXC and Thunderbolt ports.
I replaced my Windows computer with it and I haven't regret it. My best investment so far. I use it for coding, watching online tutorials or just for surfing on the internet.
Laptop Stand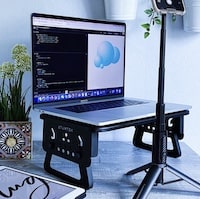 Ergonomics is very important especially when you're working long hours in front of a computer. I have different laptop stands that are each in its own way very useful.
At the moment I'm testing the Monitor Stand Riser Adjustable Desktop Stand by ATUMTEK and what I really like about it is that it's easy to assemble in just minutes. No extra tools are needed!
The stand has three adjustable heights that can raise your monitor to a comfortable position, relieving your neck, back, and eye pain. The Aluminum platform with perforated holes improves airflow going towards your device and prevents overheating. Its raised construction creates a handy storage space underneath the riser. You can organize office supplies and accessories for a more productive and tidy work environment.
(Use ATUMTEK15 for 15% off ➡️ See it on Atumtek.com)
Tripod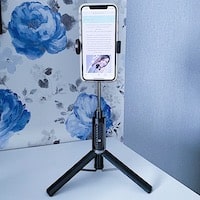 I'm documenting my coding journey on Instagram and having a tripod is super useful.
This tripod is awesome and I don't just say it because ATUMTEK send it to me to test it. I was looking for a new selfie stick and tripod for my iPhone for a long time and didn't find a good one.
But the 3 in 1 Bluetooth Selfie Stick Tripod with Wireless Remote is of high quality and lightweight. It's perfect to put it in a pocket or bags at travel. The universal fit is perfect for all mobile phones. The rotatable head helps you to find the best shooting angle and the Bluetooth remote frees yourself of the embarrassment of shooting while asking a stranger.
(Use ATUMTEK15 for 15% off ➡️ See it on Atumtek.com)
Ipad & Apple Pencil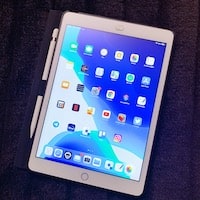 This is the iPad 10.2" with a capacity of 128GB in gold and the Apple Pencil.
I'm studying beside my full time job. And the iPad and Apple Pencil are so helpful for my studies. I can store my university course files on the device and taking notes with the Pencil. So no extra paper is needed. I have everything I need in one place.
And last but not least...
Tumbler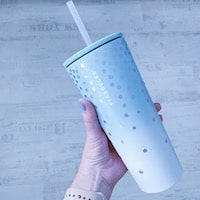 It's very important to stay hydrated and drink a lot. So my tumbler is a great help to achieve this goal.
I use the tumbler 24fl oz by Starbucks for cold drinks and I automatically drink more with it than using just a simple glass.
To be continued...
---
Love Alina
---