My Favorite Tech/Office Gadgets - Part I
Today I like to share my favorite tech and (home) office gadgets that I use (almost everyday)!
---
Laptop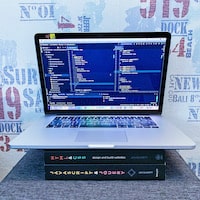 My MacBook Pro 15" in silver from 2015 has 250MB of hard disk and 16GB of RAM. I bought this one because it has USB, HDMI, SDXC and Thunderbolt ports.
I replaced my Windows computer with it and I haven't regret it. My best investment so far. I use it for coding, watching online tutorials or just for surfing on the internet.
Laptop Stand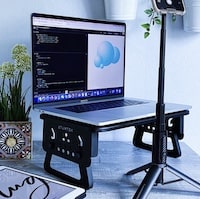 Ergonomics is very important especially when you're working long hours in front of a computer. I have different laptop stands that are each in its own way very useful.
At the moment I'm testing the Monitor Stand Riser Adjustable Desktop Stand by ATUMTEK and what I really like about it is that it's easy to assemble in just minutes. No extra tools are needed!
The stand has three adjustable heights that can raise your monitor to a comfortable position, relieving your neck, back, and eye pain. The Aluminum platform with perforated holes improves airflow going towards your device and prevents overheating. Its raised construction creates a handy storage space underneath the riser. You can organize office supplies and accessories for a more productive and tidy work environment.
(Use ATUMTEK15 for 15% off ➡️ See it on Atumtek.com)
Tripod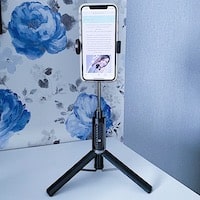 I'm documenting my coding journey on Instagram and having a tripod is super useful.
This tripod is awesome and I don't just say it because ATUMTEK send it to me to test it. I was looking for a new selfie stick and tripod for my iPhone for a long time and didn't find a good one.
But the 3 in 1 Bluetooth Selfie Stick Tripod with Wireless Remote is of high quality and lightweight. It's perfect to put it in a pocket or bags at travel. The universal fit is perfect for all mobile phones. The rotatable head helps you to find the best shooting angle and the Bluetooth remote frees yourself of the embarrassment of shooting while asking a stranger.
(Use ATUMTEK15 for 15% off ➡️ See it on Atumtek.com)
Ipad & Apple Pencil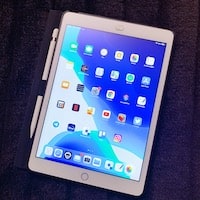 This is the iPad 10.2" with a capacity of 128GB in gold and the Apple Pencil.
I'm studying beside my full time job. And the iPad and Apple Pencil are so helpful for my studies. I can store my university course files on the device and taking notes with the Pencil. So no extra paper is needed. I have everything I need in one place.
And last but not least...
Tumbler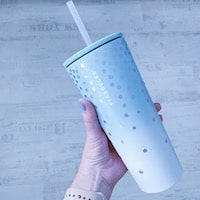 It's very important to stay hydrated and drink a lot. So my tumbler is a great help to achieve this goal.
I use the tumbler 24fl oz by Starbucks for cold drinks and I automatically drink more with it than using just a simple glass.
To be continued...
---
Love Alina
Methods of Note-Taking
No matter if you are at school, at university, at work or at home taking notes is part of our daily life. Especially to understand a complex topic, it's helpful to not just take notes but also structure them in a way so that the reviewing, understanding and rememebering a certain topic will be a lot easier.
There are numbers of different ways to take notes and I'd like to present the most common methods:
---
1. Outline/Outlining method:
Notes are organized in a structured form. Different topics and subtopics are organized by bullet points, dashes or numbers, that means in a form of an outline. It reduces the editing and reviewing time afterwards and the relationship between main topic and subtopics are identified quickly.
2. Cornell method:
Notes are structured in two columns and one row below. The bigger right column contains the notes associated with the main topic and the smaller left column contains the keywords/questions/hints associated with the notes on the right. The row below summaries the collected notes. While taking notes use the right column and reviewing your notes in the left column. It's a simple and efficient method to take, review and summarize your notes in a systematic format.
3. Boxing method:
All topics/pieces of information that are related to each other are grouped together in a box. The notes in each box can be organized/structured with another method like the outlining method for example. While taking digital notes e.g. on an iPad or another tablet the boxes can be reorganised, reordered and resized really easily and quickly.
4. Charting method:
This method consists of a table of rows and columns. The main topic can be found in the top row and the subtopics/keywords/information are organized in the columns below. Each column categorizes a distinct topic of the main topic. It's a useful method to get an overview over a complex topic especially when a topic covers lots of facts and statistics.
5. Mapping method/Mind mapping:
Notes are structured and organized in a visual way. The main topic stands in the middle or on top of the paper. Then the main topic is divided into subtopics around/below the main topic. The subtopics are also divided into branches and can be linked with each other depending on their relationship. Especially heavy content can be organized with this method in a simple and structured form.
6. Sentence method:
Each topic is written in a whole sentence on a separate line. A visual aid, like highlighting the text with different colors, numbering each sentence and organizing main topics by using headings, can be helpful. With this method lots of details and information can be covered in a quick way.
---
My favorites are 1, 5 and 6 (which I obviously use the most)!😉
Which method of note-taking do you use or which do you like the most?
Love Alina
Coding Resources books, tutorials, ...
As you know from my introduction, I did an apprenticeship as a software developer and I'm currently studying Computer Science.
Programming is part of the curriculum but to be honest it's just a small part.
Due to this and the fact that the programming languages, its libraries and frameworks develop very fast, it's necessary to stay up to date, improve your knowledge and skills.
I'm a huge fan of (online) courses, tutorials and stuff to educate myself. Therefore I'd like to share some resources I used and think are useful during your studies.
(This is no advertisement…just my recommendations)
---
I'd like to divide the resources into the following:
Books & Magazines
Online Courses & Tutorials
Community Stuff
Books & Magazines
Title
Author
Books
Java & C#
Head First Java
Kathy Sierra
Head First C#
Andrew Stellmann
Java
Java ist auch eine Insel (only in German)
Christian Ullenbloom
HTML & CSS
HTML & CSS: design and build websites
Jon Duckett
CSS
CSS Secrets:
Better Solutions to Everyday Web Design Problems
Lea Verou
JavaScript
JavaScript & jQuery:
interactive front-end development
Jon Duckett
The Good Parts
Douglas Crockford
Eloquent JavaScript
Marijn Haverbeke
You don't know JavaScript series
Kyle Simpson
Magazines
Raspberry Pi
The MagPi
raspberry.org
Online Courses & Tutorials
Title
About
Online Courses
Udemy
I did courses on JavaScript, Angular & React
(udemy.com)
Udacity
I did the JavaScript Basics course
(udacity.com)
freeCodeCamp
I did a course on web development
(freecodecamp.org)
courses by Wes Bos
I did the courses: JavaScript30, CSS Grid and What the Flexbox?!
(wesbos.com/courses)
Tutorials
Angular
JavaScript Framework
(angular.io)
React
JavaScript library for building user interfaces
(reactjs.org)
CSS Flexbox
Flexbox Froggy - a game to write CSS code
(flexboxfroggy.com)
CSS Bootstrap
responsive front-end component library
(getbootstrap.com)
CSS Foundation
responsive front-end framework
(foundation.zurb.com)
Raspberry Pi & Python
it's all about the small and affordable computer that you can use to learn programming
(raspberrypi.org)
Community Stuff
Title
About
Syntax
Podcast for web developers by Wes Bos and Scott Tolinski
(syntax.fm)
Codepen
it's a social development environment for front-end designers and developers
(codepen.io)
Stack Overflow
developers come to learn, share their knowledge, and build their careers
(stackoverflow.com)
GitHub
software development platform
(github.com)
And last but not least…GOOGLE ;)
---
I know that there might be other great or even better resources than those listed above. Don't hesitate to write me an email for suggestions!
Love Alina
A Beginners Guide with some advices at the end
I often get the question: "Hey I want to start coding but I don't know where to start. Can you help me?"
In this blog post I want to share my thoughts on how and where to start programming, my experience and what helped me when I was in the same situation.
When to start?
Anytime and at any age.
Me for example: I started programming on a professional base at the age of 23 with a little html and css knowledge.
What to start?
There are many ways to start programming. It's totally up to you and your interest. Not very helpful huh?
Let me share my story with you:
During my apprenticeship, I had the opportunity to do both, backend and frontend development.
My apprenticeship was divided into 4 weeks of working at the company and 2 weeks of going to school. I learned C#, Java and SQL at school. At work, I was able to work with the frontend and backend team, so I learned HTML, CSS, JavaScript and JQuery as well.
Over the last years I started to like web development and found my passion in that field. It turned out that this is my thing and this is what I want to do and what interests me the most.
You need to try it out yourself!
---
Advice 1: Make a Checklist
Take a paper, brain storm and write down what interests you the most! Are you into design, and like to create new and pretty content? Or do you like more the mathematical part? Are you interested in big data, data analysis, databases …? Do you want to develop games or apps for IOS and/or Android? And I didn't even mention the systems and networks engineering...
Advice 2: Get started
You can go the classical way and start an apprenticeship / internship / trainee program or study at a university. Take classes at something like adult evening classes. If you don't have the opportunity or don't want to go the classical way, you can do it on your own. Go to your local library and borrow some books and/or tech magazines. Or get started online. There are so many possibilities! Check tutorials on YouTube, read blogs, watch vlogs, listen to podcasts or choose an online course on an online learning platform. (I will share some resources in one of my next posts)
Advice 3: Join a community
Either on social media platforms like Instagram (it's a fantastic community with lots of amazing people), Twitter, Facebook, …
Or go to local coding meet ups, hackathons, conventions, or similar events. Just engage with other like-minded people.
Advice 4: Practice, practice, practice
You won't start programming and will learn and know everything within a short amount of time! Practicing is everything! In the end you have to the work, research on the Internet and collect your information and search for your solution on your own. It's the best way to improve yourself. Of course you can ask for help but first try to solve it on your own. I can tell you, you'll feel great in the end. Maybe you'll fail in the beginning. It's not bad because we've all been there. But hold on and I can promise you it'll get better. It's part of the progress. Start your own coding challenge like a 30 days or a 100 days challenge. It's up to you. Then program every day for about an hour or two for next x days.
So when you ask me: what should I do? Backend, frontend, both/fullstack, database, app, …
It's hard to say what you should do because what suits me maybe won't suit you and vice versa.
Love Alina